LIQUIDATION SERVICES
FREQUENTLY ASKED QUESTIONS
Q: What is the difference between an auction company and a liquidation company?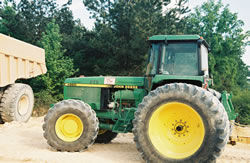 A: Some may say nothing but we think there is a huge difference. An auction company only knows one way to liquidate – auction. Although we are a licensed auction company, we call ourselves industrial liquidators. We know how to think outside the box in order to develop a plan to maximize your net recovery.
Q: I've got a problem loan, when should I engage a liquidator?
A: Even if things have not degenerated into a foreclosure or bankruptcy, it's never to soon to call for advice. The Dobbins Company will be happy to talk to you at any time at no charge and give you our thoughts. The day you send the "drop dead letter" is not the time to think about planning a liquidation. The sooner you get a handle on the process, the greater the potential net recovery.
Q: What does a liquidation cost?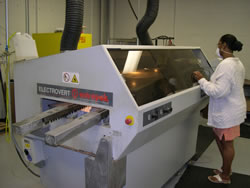 A: It all depends on the type of sale – auction or sealed bid – and the scope of the job. A large auction with hundreds of items in a messy plant will require an extensive clean up. Advertising normally involves sending out brochures or invitation to bid letters and media advertising. Check out personnel needs vary from sale to sale. The building may need to be cleaned out after the sale. There are many variables from sale to sale. The Dobbins Company will develop a plan estimating all of the various expenses for any particular situation.
Q: What kind of fee do you charge?
A: Here again it depends on the scope of the liquidation. Normally 10% of the gross sale plus expenses. In larger sales ($500,000 and above) it will be less, in smaller sales (under $50,000) it will be more.
Q: What do we get for that fee?
A: A turnkey service. We handle all aspects of a liquidation except for legal services. Engage The Dobbins Company and let us handle this problem for you.
Q: An auction company solicited us and said they would sell our collateral for free. What's up with that?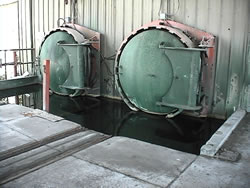 A: They charge a buyer's premium instead of a seller's commission. Many if not most auction companies charge a buyer's premium on every item they sell. This can be 15% or more on every item sold. The Dobbins Company does not charge a buyer's premium. Why? Because it has been proven to adversely affect the net recovery. Our number one goal is to maximize a lenders net recovery and shield them form liability.
Q: How does a buyer's premium adversely effect net recovery?
A: Keep in mind, most bidders are intelligent and a buyer's premium is irritating. First, it tends to depress turnout. Secondly, bidders can do the math in their heads but tend to err on the conservative side of their bidding. Say someone is bidding on something on which they will spend $10,000 but knowing a 10% buyer's premium will be charged, they stop bidding at $9,000. OK, so you say you would have to pay that $1000 anyway. The problem is that the bidding may be depressed by more than 10%, as is normally the case. The bottom line is you are going to pay one way or another. And you get what you pay for. When you engage The Dobbins Company, you're getting the best.
Q: Although that same auctioneer said he would sell my collateral for free, he needs what seems to be a large up-front retainer to cover advertising. What's this for?
A: This is common with many auction companies. Unscrupulous auctioneers will demand a deposit that is normally double of what the normal advertising expenses are estimated to be. Why? This guarantees the auctioneer a minimum fee in the event the auction bombs. Good for the auctioneer, bad for the lender.
Q: An auction company offered to purchase my foreclosed assets in bulk and then conducted an auction. Is this a normal way of doing business?
A: Some auction companies will offer to purchase these assets in bulk, if allowed to, then conduct an auction on-site shortly thereafter. The Dobbins Company will not do this. Why? We believe it to be a conflict of interest. First, it may affect the commercially reasonable aspect of the sale. But primarily, it will probably reduce your net recovery. The purchasing auctioneer will have a high profit margin built into the price they are willing to pay. We are happy with the commission we negotiate on a sale and concern ourselves with maximizing the net recovery to the lender we are working for.
Q: Some lenders are now packaging non-performing loans into portfolios and taking bids on the loan package. Does your firm purchase these types of properties?
A: Absolutely. If a lender desires to package the notes and sell these problem situations in bulk, we are interested in the possible purchase of these notes for our own account. We see a distinct difference in this and a situation where title has been obtained through foreclosure or bankruptcy.
Q: Are there any circumstances where a buyer's premium is appropriate?
A: Yes. Consignment, antique and art auctions normally have buyer's premiums and, in our opinion, this is a proper practice.
Q: Does the presence of a buyer's premium indicate that we are dealing with an unscrupulous auctioneer?
A: Absolutely not! There are many fine auction companies that charge a buyer's premium. What we are saying is, it is our opinion that a buyer's premium depresses turnout and affects your net recovery. No auction company works for free. Someone pays. We believe that a reasonable commission paid by the seller will result in the best overall net recovery.
Have a liquidation question? info@dobbinscompany.com